This Darwin-Plus funded project "Soil map and online database as climate change mitigation tools" officially started in April.
Summary of the Project;-
The Falkland Islands prioritised climate change mitigation action plan considers soil erosion, soil carbon content vulnerability and climate change assessments at policy level as high to medium priorities. To support these mitigation policies a baseline survey of soils, peatlands and erosion extent/risk will be undertaken and the results conveyed on an online data system to assist policy makers, conservation officers and land managers in deciding which actions are needed for long term mitigation measures against climate change effects.
Summary of FIT contribution;-
"Dr Jim McAdam is well known and respected agricultural scientist in the Falkland Islands, where he has been living and working for many years. Currently he is based in Northern Ireland as head the Grassland and Plant Science branch in the Agri–Food and Biosciences Institute. However, he has kept a working interest in agricultural research and farming practices in the Falklands and he makes an annual visit to the islands on behalf of the UK Falkland Islands Trust. His role in the project is highly important as it leads on from a previous successful project (TEFRA) funded by EU-BEST III initiative. In this, Jim was investigating the effects of potential climate change on ecosystem services delivery from soils, agriculture, flora and fauna in the Falklands. His role in this project will be to transfer the outcomes from the TEFRA project and put them into practice in the current project, in particular towards the assessment of erosion extent and risk and mitigation measures. Given his local knowledge his main responsibility will be engaging the local farmers and helping the Project Manager to verify and refine the erosion risk maps for the sample farms."
Progress. A project manager, Dr Stephanie Carter, has been appointed and is now based in the islands-in the SAERI office. I participated in the recruitment process and in a 2 -day induction and soil survey training meeting with Rodney Burton, iLaria Marengo and Stephanie Carter in Cambridge in August.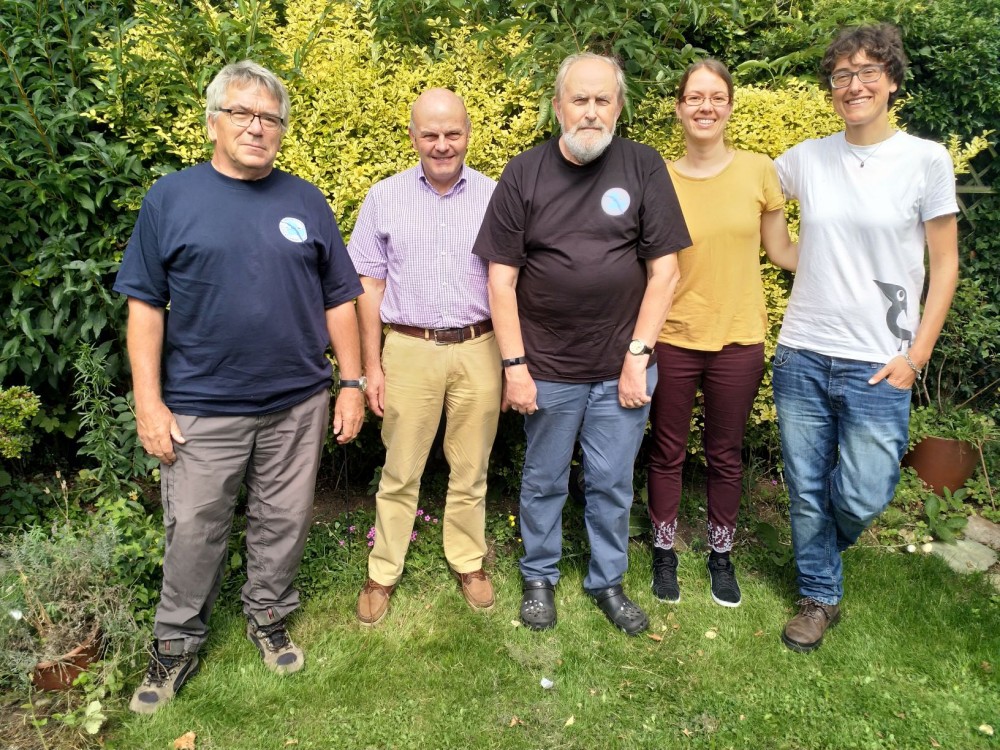 Project meeting and soil survey training course, Cambridge. Left to right ; John Hazelden, Jim McAdam, Rodney Burton, Steffi Carter, iLaria Marengo Photo courtesy of R Burton.